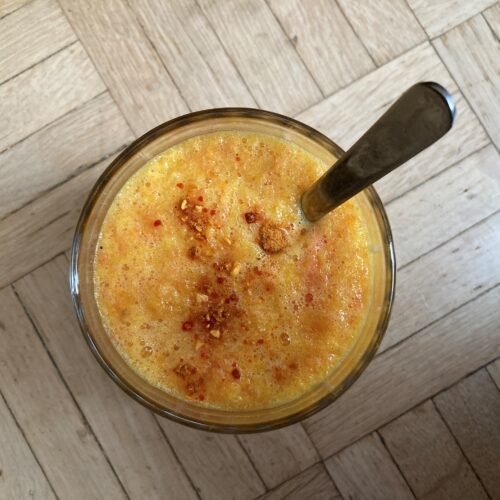 Ginger-turmeric shot
Especially during the colder months when a wide range of (garden) fresh fruit and vegetables are not so readily available we want to take extra care of our immune system. Our regular yoga practice is already a great way of supporting our overall wellbeing. Additionally, we can also promote our health by continuing to eat a diet high in vitamins, minerals and colour ("eat the rainbow"). This quick-to-make and fabulously delicious ginger-turmeric shot is chock-full of vitamin C (from the citrus fruit) while ginger and turmeric, both main ingredients in the traditional vedic as well as in many Asian and African cuisines, are said to have an antibacterial and anti-inflammatory effect. We are using the whole citrus fruit, not only the juice, which adds fibre, something most people don't nearly get enough. It gives you a nice kick in the morning and your immune system will thank you.
Equipment
1 blender

high-speed is best but an immersion blender works just as well (you may have to add a little more water, see notes below the recipe)
Ingredients
1-1.5

cm

of a knob of ginger

depending on how spicy you like it

1

cm

of fresh turmeric root

½

lemon

½

orange or blood orange
Instructions
Thoroughly wash everything. If you're using organic ginger and turmeric you don't need to peel it. Peel the citrus fruits, take out all pips (or don't)  and put everything in a high speed blender with a tiny bit of water. Blend to preferred consistency.
Notes
It keeps well in the fridge for about two days so I usually make more and bring it to work. If you do not have a high speed blender (one of the best investments I've ever made) you can try using a regular blender. I've even used an immersion blender in the past. However, the result will not be as smooth and you may want to add more water. If you're relatively new to raw ginger, the first sip may taste, let's say, unfamiliar to you. As in, overwhelming and sharp in the throat. Don't worry and adjust the ginger-orange ratio to take the edge off of it. Try grapefruit or lime too or mix it up with your favourite greens for a delicious green smoothie.