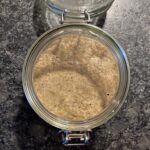 Print
Sourdough bread starter
I'd always wanted to be the cool friend who brings home-baked sourdough bread as a gift when she is invited to a friend. I'd also been convinced that baking bread from scratch was a science I could definitely not master. I was properly intimidated. On top of that, whenever I looked for tutorials online, they were really difficult to follow. So I postponed. And postponed. Then the pandemic hit and everyone was baking bread. Not in my vicinity but all over the internet. One day a friend sent me a link to a shared document that made it seem doable. And I did it. And haven't looked back.
Equipment
1 clean jar with a lid

1 wooden or plastic spoon

Don't use metal if you can.
Materials
50

g

whole rye flour

or (whole) wheat flour but for me, whole rye works best

50

g

water
Instructions
In the jar mix 50 g of flour with 50 g of water with a wooden or plastic spoon.

Cover the jar with the lid (just put it on top, don't screw it close), then put it in a warm place with a somewhat consistent temperature. For me, the - unused - oven works well.

Over the next 5-7 days feed the dough daily with 25 g of each flour and water, roughly stirring through.

If you check in multiple times per day - which you will if you're nearly as curious as I am - you will notice how the dough will at times rise, then go down again.

After 5 to 7 days the dough is ready for baking.
Notes
HERE you get to the post about how to bake your sourdough bread.
This is how the sourdough starter looks once it has risen and deflated.
This sourdough starter is an eager riser 😉