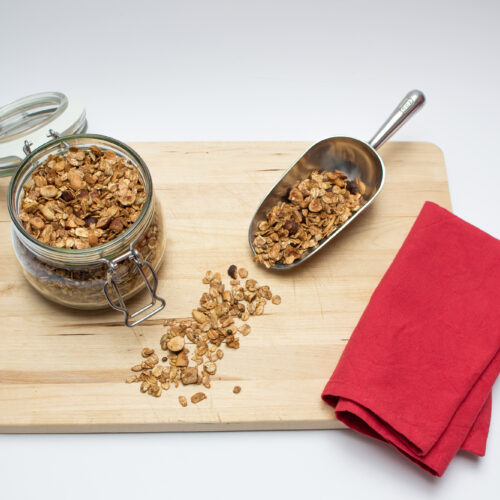 Nutty granola
Makes approx. two baking trays of the most scrumptious granola.
Ingredients
6

cups

of your favourite mixed grains & oats

3

cups

of your preferred nuts and seeds

¼

Tasse

melted coconut oil

¼

Tasse

Ahornsirup

1

EL

cinnamon

1

TL

cardamom

1

dash

cayenne pepper

for that unexpected kick
Instructions
Roughly chop nuts and mix with grains. Mix in the spices, then stir through the coconut oil and maple syrup.

Spread on two baking trays (you may want to use parchment paper) and bake it for approximately 20 minutes, stirring occasionally.

Take it out of the oven and leave it to cool down completely before storing it in airtight containers.

In theory, this granola will last for a couple of weeks.
Notes
The granola will continue to brown once it is out of the oven so don't keep it in for too long.